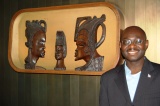 Alhaji Mohanned Mardah, the community builder
Kobina Annan, Jr.
Alhaji Mohammed Mardah was born in Ghana on February 28,1966.His father Alhaji Ali Mardah, was the Chief of the Grunshie community in Accra, and his mother, Hajia Fati English. She was the daughter of Alhaji English, one of the most famous philanthropists in Ghana in the late fifties and early sixties.

Mr. Mardah went to primary school in Additrom Elementary School in Adabraka before transferring to Harrow International at Abeka. He entered Accra Academy (a family tradition) in 1978-1979, and finished in 1986. From there, he did one year of National Service at the Controller and Accountant General's Office and then immigrated to the United States in September of 1989.

Mr. Mardah entered Bronx Community College in 1992 for further education. He started with taking one course per semester because of financial constraint. His lack of proper immigration status prevented him from getting a job with a decent pay that could allow full time studies.

In 1996, Mr. Mardah secured his green card, promptly enrolled as a full time student at the same school and graduated a year later. He then went on to Lehman College in the Bronx where he graduated 2002 summa cum laude in Business Administration.

Mr. Mardah officially joined Yankasa Association, one of the various ethnic associations for Ghanaians in North America (NCOGA). A year later, he was appointed Deputy Public Relations Officer. In this position, he served as the official master of ceremonies for all Yankasa social functions - weddings, outdoorings, religious events, etc. Because of the efficiency with which he held this position, he became even more popular.

In 1995, Mr. Marhah was elected unopposed to the position of General Secretary of Yankasa Association. Consequently, he became the representative of Yankasa at the umbrella Ghanaian community council (NCOGA) in 1996.

In 1998, the then Secretary General of the Council, Kwamena Eshun was transferred by his employer to North Carolina, and Mr. Mardah was asked to act as deputy to the then Deputy Secretary General, Mr. Mawuli Agbenu, who now was the Acting Secretary General. Mr. Mardah was elected a year later as the Deputy Secretary General under Thomas Mensah. Four years later, he was elected by council as the youngest Executive Secretary General of NCOGA after Thomas had completed his two year term of office.

The National Council of Ghanaian Associations is an umbrella organization presently comprised of fourteen Ghanaian groups representing the different ethnic, cultural, civic and religious groups in the New York City area. It was founded twenty years ago as a unified body to promote the interests of Ghanaians and seek their general welfare in the United States.
.
Under his leadership at the Council for the past three years, Mardah has been able to expand the range of the organization, solidified its position as the mouthpiece of the community, and encouraged more youth oriented events. He initiated the first NCOGA Health Fair, the first forum on travel meetings with airlines servicing Ghana through carriers such as North American Airlines, Delta and Emirates.

Realizing the importance of information propagation, Mardah established the NCOGA website as a source of news and forum about its members and a venue through which the entire members of the Ghanaian community can interact. Images of picnics, business meetings and other activities are posted on the site for all to see. Through the website, NCOGA has become recognized on the International stage.

The NCOGA Board of Directors, a group which had been dormant for a few years, was reconstituted in the first three months of his leadership. The Board members, all Ghanaians and some of whom had been unknown to the community, have greatly helped the organization. They include the perennial Dr. Dodoo as Chairman, Eddie Agboh a founding member and former President of the organization as Vice Chairman as well as Thomas Mensah, the immediate past Executive Secretary General as one of the strongest members. For a complete list of all the Board members, please visit www.ncoga.org.

Mr. Alhaji Mardah says," The idea of public service is something innate. It takes a special person to commit to helping his or her community, often taking great abuses and insults. It is a thankless job, and yet we commit ourselves. There is only one reason, and that is we are born with it. Helping people is part of our nature, and how we do it makes no difference."

Today, NCOGA is without a doubt, the leader and mouthpiece of the Ghanaian community and it is men like Alhaji Mardah who made it possible.

Kobia Annan, Jr. March 26, 2007