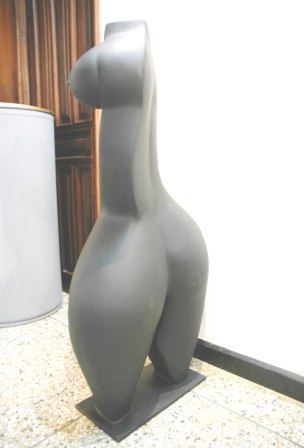 Work by Swaniker
Exhibition starts
Wed, June 22; ends Wed, July 6, 2011
"PASSAGE OF DISCOVERY"
- AN EXHIBITION OF WORKS BY CONSTANCE SWANIKER AT THE ARTISTS' ALLIANCE GALLERY, ACCRA.
Dr. Nii Bonney Andrews

At one of Accra's northern suburbs- Bubuiashie, the metal forge or smithy is no longer a male domain; there is a change.

From ancient Egypt, through the Greco-Roman era and in traditional West African societies, the names of the ur-metallurgists and masters of metal reverberate through legend, myth and HIStory-Ogun,Vulcan, Dionysius and Tubalcain.

Without equivocation, Constance Swaniker is following in their stead and writing HERStory.

Constance Swaniker has turned the art-craft debate on its head. In the contemporary globalized system of sweat shops, mass production and knock-offs; Swaniker produces metal objects that are labor intensive, unique and superbly crafted yet provocatively dysfunctional.

She draws on themes, tropes and materials (including wood, cloth, paper and glass) that refer to and simultaneously unpick and unwrap all the precedents while at the same time transcending cultural boundaries whether in time or space.

This gives her pieces a definite originality while she addresses the fraught Ghanaian identity with a consistently insightful and intuitive hand….and eye.

She is masterly at summing up the transient notion/idea of space and belonging in the contemporary Ghanaian identity; an identity suffused with ghosts of internalist and externalist violence and exploitation, but with homegrown/indigenous responses that have ultimately produced a culture that is rich, genuine, heart breaking and gut wrenching.

One of these sanguine homegrown responses is a refusal to see; for to refuse to see is to refuse to act, thereby ensuring a refusal to become an agent in ANYONE'S change including YOUR OWN.

The personal "blind spot"/darkness appears when something is overwhelming or too threatening to be seen- but sadly, it soon becomes a "communal darkness"…..perhaps culminating in the stark reality of over 60% of school children unable to read or write or two thirds of the population of Accra without toilet facilities!!

But Swaniker does see and she does act in metal and more; "CONVERSATION WITH MIRRORS" and "MOMENTUM" tell us so.

The blank mirror frame in the midst of an apparent conflagration serves as a signification of our communal darkness. The totemic bovine with the horns wrapped in cloth symbolizes a call to action.

In "WALK A MILE IN MY SHOES", she poignantly attacks our perennial habit of lateness, irritatingly described as 'ghanaian time'- we are all over the place as an appointment is scheduled for one, one thirty, two, three- and it is not funny.

Her capacity to find the materials, methods and words to convey her intentions is nowhere more nuanced and at the same time menacing than in "SKELETONS IN THE CLOSET" and "SEA NEVER DRY".

The latter sculpture consistently comes to mind every time a politician parrots the cliché, "Ghana has a lot of potential!"

Swaniker's background is multicultural and multifunctional; her high school education was in Southern Africa, she then graduated from KNUST (Ghana) in 1999 with a major in sculpture. During her time at university, she worked as a carpenter's apprentice for five years.

While this is her first solo exhibition, she is an acknowledged trailblazer in the wrought iron industry in Ghana and her workshop and showroom at Bubuiashie are a must see for high profile architects, high end interior decorators, stylists and esthetes.

Simply put, from Bubuiashie, Swaniker continues the traditional indispensible role of the ur-mellaurgist as a mediator or signifier of civilization, progress and change.

Her constant awareness of function and experiment as a zeitgeist has furthermore created an evolving aesthetic paradigm that is always wicked, fresh and cool. Clearly, in her corpus, she has struck an elegant balance between medium, form and technique.

Swaniker's exertions rise to a crescendo in the piece "COPING MECHANISM"- are we surprised that even when weighed down, the larger umbrella is lighter? In "SEA LIFE", the exuberant but delicate execution of her composition ensures that if Poseidon or the Nummo had a caduceus, this must have been the prototype.

While we may interrogate the efficacy of her work in changing the world (?reality) -and rightly so, it is a powerful reminder of the potentiality of art to jolt us into a greater awareness of ourselves and of society (?perception).

From Bolgatanga to the sandwiched chaotic kiosks and containers of Bubuiashie; the living conditions of the masses signify that our society is pregnant with change- a fact not lost to the perceptive or the spiritually wise or the intellectually rigorous.

Change MUST come….AND it is A COMIN'!!

With this cohesive first exhibition, Swaniker emphatically positions herself as part of that change.

Nii Bonney Andrews
Blebo We- Sakumo,
June 2011.