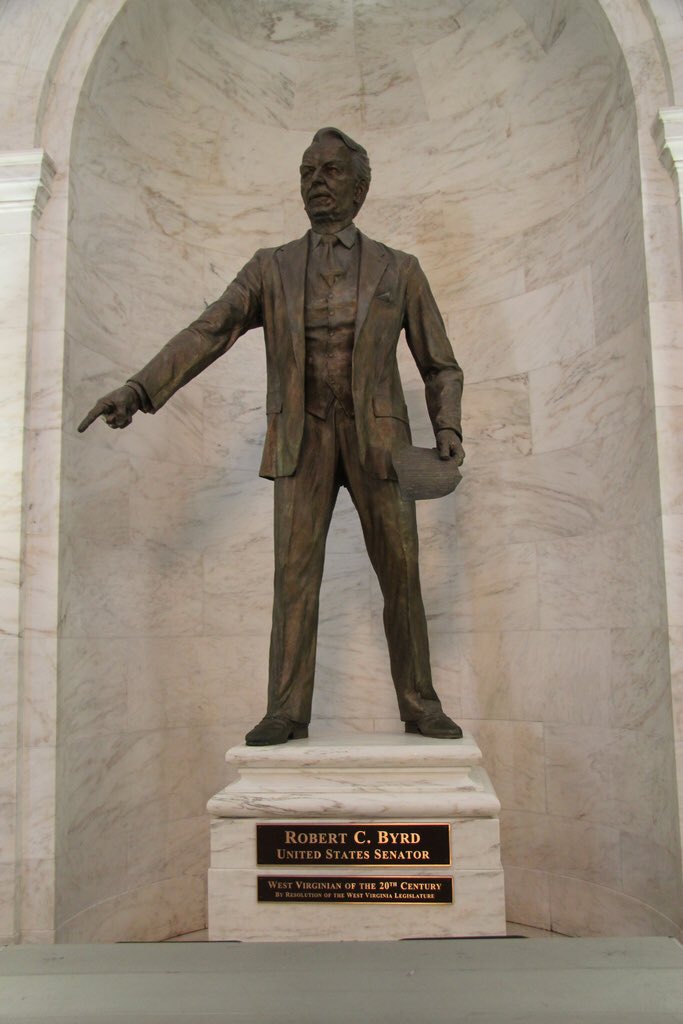 Robert Byrd statue at W. Virginia Capitol
The Charlottesville riot and matters arising
E. Ablorh-Odjidja
August 17, 2017

There is a disturbing trend in American politics and it is the use of racially charged agitation (agitprop) for the purpose of nurturing other matters not related to core Black issues or interests.

Charlottesville, Virginia, August 12, 2017 armed Ku Klux Klan, Neo-Nazis, white supremacists on one side and left leaning anarchists/activists on the other, clashed - each side in opposition to the others stand on the issue of the withdraw of the statue of Robert E. Lee, a Confederate General, from public space in the state of North Carolina.

A woman, Heather Heyer, an anti-Confederacy statue protester died, killed by a driver - a declared Neo-Nazi and a white supremacist.

Both murderer and his victim were white, but the result has become racial. And the event has been turned into a cudgel to pommel President Trump as a racist because of what he said immediately after the tragic accident.
In sum, this was Trump statement about the riot (the second one).

"Racism is evil. And those who cause violence in its name are criminals and thugs, including the KKK, neo-Nazis, white supremacists, and other hate groups that are repugnant to everything we hold dear as Americans," said Trump.

President trump in reality may or may not be a racist. But Charlottsville has turned him into one on the lips of many.

Racism has always been a charge against only Republican politicians. And now it has become a convenient agitprop for all causes against Trump.

Most vocal among these groups were some Blacks who forgot (as they always do) that they were overweening the charge of racism of its significant Civil Rights meaning.

And often these days, the utility of the charge of racism has nothing to do with Blacks. Not in the short term and not in the long term either.

The point of this current charge of racism is that it has become the excuse of choice after Democrats lost the presidency in November 2016 and after the belief that the Russia Collusion charge is not yielding the desired result.

Close in fervor with all things by Democrats against Trump, after Charlottesville, were statements by stalwart "Republican Never Trumpers", in this particular case Senator Lindsay Graham.

It didn't take Senator Graham a minute to express negative sentiments, based of the faux racism charge, about Trump's speech after the Charlottesville incident.
He conveniently forgot the memorials and the statues still standing at South Carolina; Senator Graham's own state.

For this writer, the removal of a Confederate statue is a non-issue. It could stand as a statue of shame.

Of course, Robert E. Lee's was a Confederate reprobate. But his statue should be allowed to stand, this time with an epithet that says who he was, namely, a general who stood for the Southern states so-called right to preserve slavery.

Robert E. Lee's existence was a historical fact. A brass plate on his statue, with the appropriate attribute and his contributions to the pro-slavery cause would not be considered a reflection of honor in today's political environment. Rather, a reflection of shame on him and what he stood for.

Dismiss the above approach and you will be facing a scene in the dystopian fiction "1984," by George Orwell. Destroy Lee's statue and you would be answering this logical question: whose statue is next?

But a learned lady had an answer for the above.

The demolition could continue, she said. It should only be limited to assets from the Confederate era. This approach, she argued, could spare those statues of rare merit, even though those were slave owners too.

George Washington would be spared, And so would Thomas Jefferson and a host of others from the Founding Fathers' generation.

Clever as this approach might be, it could only be a fine start. A limited one at best because the Confederacy was all about fighting to maintain slave economy in the South.
Remember, the real charge of racism is historically linked to slavery, not religion or culture.

Thus the same demolition logic should persist: If slavery and racism were the "cause celebre," of the protest at Charllottesville, then George Washington's monument could be a fair game. He was a slave owner too.

It was the wealth from slave economy that built the South; that supported some of the "fine", racist white families like Robert E. Lee - long enough to give them the supremacist flair.

And it was the threat of the termination of this slave economy that caused the South to secede and the Civil War to follow. So why should anybody who benefited from this slave economy, pre or post Confederacy, be spared?

The result of removing Confederate statues and all those linked to slavery would be a complete overhaul of history. It would leave a broken landscape, one devoid of the diverse artifacts and monuments that America has now.

Such a destruction would be a huge price to pay aesthetically. Intellectually, it will also facilitate the removal of the awful deeds of some of these virulent, racist, slave owners' acts from memory.
A monument is a remembrance. In this case, make it negative, not invisible.

Trump condemned hate, violence and bigotry in his speech after Charlottesville. But it was not enough. If a Democrat had made the same speech, it wouldn't have mattered. Gore, Hillary, Bill Clinton have escaped with worse racial ancestry, associations and reputations.

More blacks voted for Trump than any past Republican presidents in recent memory. He promised a plan for Blacks; School Choice, jobs and economic uplift. Could this promise be what is under attack?
Is the uplifting of Blacks by the non-diversity approach what the real racists are afraid of?

Take Senator Lindsay Graham. His home state is South Carolina, a state among those with the highest number of Confederate memorials - at least 112 publicly-supported spaces. He has been a state and federal government official since 1992 – won every term in office by an average 60% vote along the way.

Here was what what was said about the state of South Carolina after the Charlottesville disaster:

"While politicians in other states work to remove Confederate monuments from public spaces, lawmakers in South Carolina say there are no plans for anything similar in the Palmetto State.," reported The Post and Courier of Charleston, South Carolina.

Obviously, Senator Graham never knew how divisive Confederate memorials could be until Trump spoke!

Hillary could call Robert Byrd her mentor and a hero. There are more edifices build in the name of Byrd in W. Virginia than for any other law maker in any state. His portrait still stands in the halls of Congress.
Byrd was a known KKK leader and not a single bold move has ever been made against his name in the halls of Congress.

Senator Graham, it has to be noted, never made a move against Robert Byrd's statue in W. Virginia Capitol either, or one against a single Confederate monument in South Carolina until he met Trump!
The hypocrisy should be obvious. And that hypocrisy must not be attached to Senator Graham alone.
E. Ablorh-Odjidja, Publisher www.ghanadot.com, Washington, DC, August 17, 2017
Permission to publish: Please feel free to publish or reproduce, with credits, unedited. If posted at a website, email a copy of the web page to publisher@ghanadot.com . Or don't publish at all.